The engagement is as important as the wedding because it allows a couple to confirm their decision to marry each other. So, hiring an engagement photographer who can create lasting memories of your big day is of utmost importance. While selecting a professional photographer to take your engagement photos, you need to think about many more aspects than just hiring one! Couples usually prefer photos that capture the candid moments in a natural setting and not the traditional posed shots.
In addition to this, there are numerous ways in which an engagement photographer can create memories for the couple to view in the future and these include albums, online slide shows and prints. Engagement albums are a unique way to record your experiences. However, in today's era of the Internet, couples prefer sharing their engagement photographs with their family and friends through social media sites. Some of them even create a website to showcase their photos or email them to their friends. Some couples prefer getting the best photos transferred to canvas or prints on glass. These prints are perfect for decorating the walls of their home.
Only a professional photographer can be entrusted with such an important task! If you are planning to have your engagement in Malta, then JJ Chircop will be the finest engagement photographer to hire. He has experience in shooting in a variety of lighting conditions and in any kind of weather. He can provide photos as an album, in digital format, or as prints on a variety of media. He even offers an option for the client to receive the pictures on a disk that can be easily shared among family members.
Not everyone is comfortable in front of the cameras and this uneasiness is later noticed in the photographs. However, JJ Chircop is an experienced photographer and he knows how to handle situations like these. Moreover, he is a UK qualified wedding photographer who offers various mediums to display your engagement photographs and for a very good price. He can even do a small photo session with the couple during the engagement party. Apart from that he can customize a complete engagement package to include all the numerous forms of photographs that the couple desires.
Contact him today on 77112112, or send him an email on info@jjchircop.com for more information!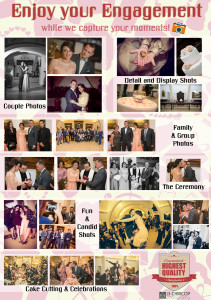 Filled Under : Photography , Pre & Post Wedding , Wedding Photography